Order Your Status Certificate
Online In Just 4 Easy Steps.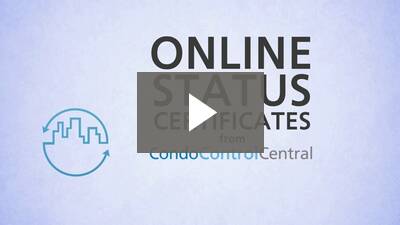 Ordering status certificates is usually an ordeal. You have to place your order, pay by certified cheque, then either pick up your documents in-person or pay for them to be delivered by courier.
This is the 21st century.. Shouldn't there be an easier way?
Well now there is. Using our service you can place your order online, pay securely by credit card, and receive your documents electronically when they're ready. It can save you a lot of time for both buyers and property managers.
How does it work?
Buyer selects building and unit.

After clicking "Order Now" above, the buyer selects the building and unit number they are buying.

Buyer provides payment details.

The buyer completes a brief form and provides their email address (where the status certificate will be sent) and payment details. For your convenience, we accept Visa, Mastercard or American Express. After payment is received, Condo Control Central will notify the property manager so they can begin preparing the status certificate.

Property manager prepares the status certificate.

When the status certificate is ready, the property manager uploads it to Condo Control Central, and an email is automatically sent to the buyer with a link.

Buyer receives the certificate.

The buyer can easily access the status certificate online, download it and save it, or forward it to others (for example, their real estate agent or lawyer).